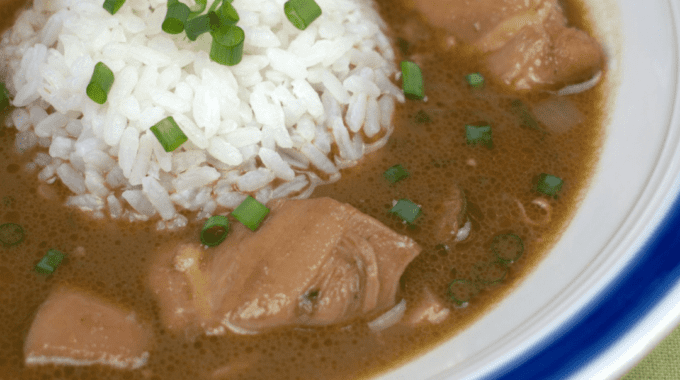 Chicken and Sausage Gumbo
Ingredients:
3 lbs. Bonless skinless chicken thighs
1 lb. Smoked sausage chopped
1/2 cup chopped onion tops
1 med. Onion chopped
1/2 Green bell pepper chopped
2 cloves garlic minced
1/4 cup chopped parsley
2 qts. Water
2 qts. Low sodium chicken broth
Kary's Roux Seasoning Blend (to taste)
8 oz. Kary's Roux
Directions:
Add water and broth to large pot, and bring to a boil. Once boiling, add roux, stirring continuously until roux is completely dissolved (app. 10 minutes). Then add onion, bell pepper, garlic, chicken, and sausage. Bring back to a boil, and boil uncovered over medium heat for approximately 1 – 1.25 hours. When the chicken is cooked and tender, add in parsley and green onion, and cook for 10-15 minutes longer.  Serve over a scoop of rice.